Hotel Reservation Software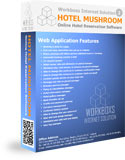 Because of the high complitition in accommodation business and we have seen the needs of the business. That's why we design the software for these business to make the client from all over the world able to rish to the information and making reservation around the clock to increase the sales from everywhere with fast, safe and easy to manage.
Overview of our 1-click reservation
Online hotel reservation software in the market need many step to produce the accommodation booking, by choosing the room, Guest information including payment. They are all need to pass to many pages to process the booking. We have seen the problem that sometime your client are not the computer professional user. This problem may to be complicated and let's them bore to make the reservation on your site. Our Online hotel reservation software is able to solve all that problem within one single page booking. To reduce the intricate of the online hotel reservation process, fast and easy for any client. And keep all your business client.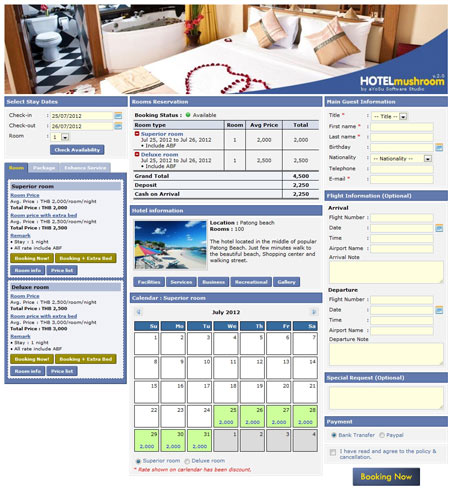 Round the clock online reservation.
Accommodation rate manage on different period.
Unlimited room allotment set up.
Multiple reservation formats.
Online payment by credit card available for Visa and Master card.
Fast and easy booking within a single page.
Immediately system update in every software set up.
Client history system for sales and maketing.
Hotel enhance service management system.
Transportation service management system.
Reservation report.
Hotel Booking Engine Plans
Feature
Pay per Booking
Start with Smart
Best Value
Duration of the contract
1 Year
1 Year
1 Year
Commission
5% per booking
-
-
Online payment gateway implementation



Update service : promotions, rates and room allotment



E-marketing consulting



Pay-per-click management services



Facebook ads management services



Upgrade program. When is an upgrade version.



Online documentation



Manual documentation
-


Website redesign & development
-
-

Advance Search Engine Optimization (SEO)
-
-

Price in the first year
5,000 Baht
27,500 Baht
39,500 Baht
Renew
5,000 Baht
22,500 Baht
25,000 Baht