How to setting Microsoft Outlook 2010
Once you have successfully configured an email account in Outlook 2010 and want to view the account\'s settings or properties, then here are the simple steps you can follow. In Outlook 2007, the account settings could be launched from the Tools > Account Settings option, while in Outlook 2010, you simply hit the Office button(or File) and click the Account Settings button.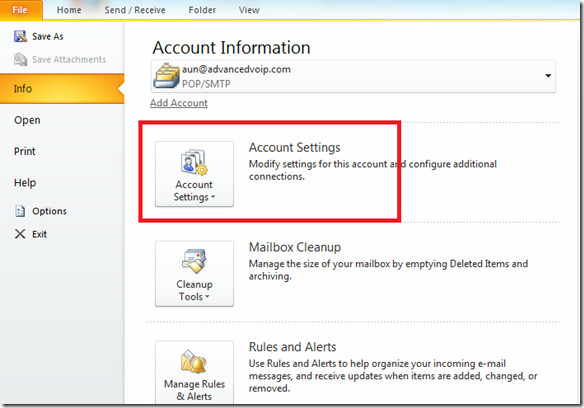 It will display the Account Settings window with Email tab open, if you have configured multiple accounts then all of them will be listed here. You will see the tabbed interface here, by clicking any particular tab you will see its relevant settings for the selected account.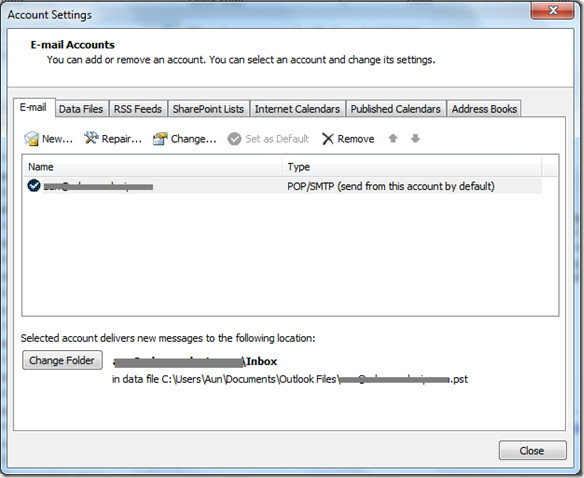 Under the tabs, you will see plenty of useful options, the New option lets you configure a new email account, the Repair option is used to repair the Outlook 2010 settings (you often need to perform this operation if your email repository size is in GB's), the Change option lets you modify the settings of any particular email account. If you have configured multiple accounts in Outlook 2010 then you can set any particular account as your default by selecting that account and hitting the Set as Default option. The Remove option deletes any particular email account.
At the bottom of the above displayed window, you will see the path of the data file. This data file is used to restore your emails, in the case of any disaster situation.
Lets explore more into the Email settings, hit the Change button and it will launch the wizard from where you can view/modify your configured email account settings. At the very first step, you will see User Information, Server Information (Server Type, Incoming and Outgoing Server) and Logon Information( Email account and password).